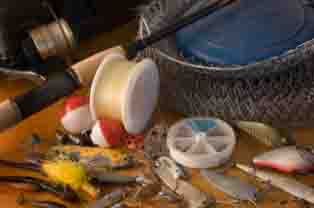 Our 2 bait and tackle retail stores are located in Ocean City, MD and Fenwick Island, Delaware | Also, our Oyster Bay Tackle Online Shopping Cart Store offers a large variety of Fishing Rods, Reels, Lures, Rigs, How to Fish Books, bait and simply good advice and tips!
Shop from the comfort of your home - We ship fishing tackle and gear, accessories, and clothing out daily and pride ourselves on prompt processing of orders.
Fishing Product Categories
Last Updated on Sunday, 16 November 2014 13:31
A fishing reel is a device used for the deployment and retrieval of a fishing line using a spool mounted on an axle. Fishing reels are used in conjunction with a fishing rod.  Clicking on our Online Store will give you an idea of some of our quality reels we carry in our stores.  Remember, Fenwick Tackle is in DELAWARE- No sale tax! 
Click Here to Browse and Preview All our Fishing Reels Online.




Daiwa Fishing Reels:  From the very beginning, Daiwa's emphasis has been upon innovation and quality. The result is a long list of product features, design and materials that have become standards for the fishing tackle industry. Daiwa manufactures a wide variety of reels for specific fishing needs, including Surf Fishing, Bay and Jetty Fishing, Bait Casting, Spincasting. Saltwater conventional reelds, fly and mooching reels, etc..

We have Daiwa Strikeforce Reels starting at 19.99 with line that will never steer you wrong! We carry Daiwa Emcast® Plus Surf Spinning Reels with free 20# line that would make any surf angler happy. We also carry conventional surf reels such as Daiwa SL-X30SHA Sealine SW Reel 3CRBB High Speed and Daiwa STTBG30H Saltist 30 HighSpeed BG Conventional Reel to name a few. 




Okuma's goal is to enhance that time and experience by providing dynamic tackle that will become a seamless part of the overall angling experience.  "Design driven by technique" is the key in developing rods and reels that push the angling experience.

Okuma manufactures high performance reels including lever drag, star drag, spinning reels, bait casting reels, fly fishing reels, and center pin reels. Two of our most popular economy Okuma reels are 

Okuma Avenger Baitfeeder Series:The Avenger Baitfeeder

spinning reel features Okuma's patented Bait Feeding System which allows you to fish live bait in freespool mode. An adjustable microdrag increases and reduces tension to the bait to fit the application. The reel also has Quick-set anti-reverse that has a corrosion-resistant stainless steel roller bearing which engages the handle instantly and eliminates handle backplay. The reel retrieves smoothly thanks to six stainless steel ball bearings and the Okuma Even-Flow roller.

Okuma Acuador: 

The Acuador is a solid, all-around performing series of reels with precision construction and high performance features at just a fraction of the cost,,,













Ever since Otto Henze founded the Penn Fishing Tackle Company in 1932 , Penn has been at the forefront of modern reel design and production. Millions of experienced anglers around the world put their faith in using Penn products every day. Penn manufactures a complete line of Reels including conventional reels, spinning reels, baitcasting reels, international reels. There's a price point for everyone who comes in to buy a Penn Reel. From 39.99 to $200+ you just can't go wrong. Strong, salt water resistant, and certainly reliable. Our best selling reels by far. Pursuit II, Fierce, Battle II, SSV Spinfisher, Squall, Defiance, and more. Plus Penn offers combos (rod, reel, and line, ready-to-fish in Pursuit II Spin, Fierce, Battle II, Spinfisher V, Defiance Level Wind (Trolling, bottom fishing...)  You just can't go wrong with value and reliability! You can walk into our stores with a $50 bill or $200 and walk out proud knowing you got one of the best spinning reels around. Feel free to bring in your rod so we can help you pick out  a good match.  Free Monofilament line is on us if you buy a reel or combo. (Braid extra...)







Pinnacle baitcast reels are designed and built by fishermen for fishermen. According to their website, "unlike competitors who farm out design work to suppliers, engineering on most Pinnacle reels is done in-house. The Project Engineers and Product Managers who head up the development process are not only seasoned veterans in the tackle industry but are also anglers who understand what it takes to build a quality reel. " Pinnacle manufactures a full line of reels for the sportfishing enthusiasts for salt water fishing in the oceans and bays of the world.







Quantum manufactures through it's dealer network a full line of reels for the sportfishing Enthusiast.  These would include  baitcast reels, spinning reels, trolling reels, and typically come with a 1 year warranty. 

| | | |
| --- | --- | --- |
| OP60FB-BX | Quantum OP60FB-BX Optix Spin Reel 4BB 4.4:1 220/14Lb Alum Spln- One of our most popular Surf spinning reels. Under $40 with free mono line! | |

OP80FB-BX

Quantum OP80FB-BX Optix Spin Reel 4BB 4.4:1 240/20Lb Alum Spln-

One of our most popular Surf spinning reels. Under $40 with free mono line!

OP40FB-BX

Quantum OP40FB-BX Optix Spin Reel 3BB 5.3:1 230/10Lb Alum Spln.

One of our most popular Bay spinning reels. Under $30 with free mono line!






Shimano SOCCORRO SW Spinning Reel

Starting at $69.99 is a bargain. Just a good basic reel that is strong and it works! From bay to surf sizes.(Propulsion line management system. Power Roller III. Lightweight graphite frame, sideplate and rotor. Super stopper II and Dyna-balance. Waterproof drag)







Founded in the early 1920's by Shozaburo Shimano, Shimanostarted off as a company known for precision engineering. Today the company is regarded as one of the forerunners in product innovation and a leader in the industry.Shimano manufactures a full line of Ocean and Bay Salt Water Reels for baitcasting, trolling, offshore spinning, etc.. We sell a LOT of Shimano Reels!  Price and Quality is the reason why.

The least expensive reel we sell hundreds of in our stores is the Shimano !X4000R for 14.99. It comes with free !4# test line and is just perfect for inshore vacationer flounder fishing set-up. Smaller versions of the same reels are also good for fresh water ponds. For the money spent, they hold up REALLY WELL! We also carry Sienna, Sedona, AX, FX, and Safari, all affordable small reels for the bay and/or fresh water ponds. (Yes, we have a lot of ponds in DE.)





Shimano STRADIC® FJ Spinning Reels- Top of the line, but well worth the bucks if you fish a lot. These are what the owners of Oyster Bay Tackle fish with. 

STRADIC® FJ SPINNING REELS X-Ship Graphite Rotor, Sideplate Paladin Gear Durability Enhancement Propulsion Line Management System: Propulsion Spool Lip, SR One-Piece Bail Wire, Power Roller III, Redesigned Bail Trip, S-Arm Cam Aero Wrap II Oscillation SR-Concept: SR-3D Gear, SR Handle, SR One-Piece Bail Wire S A-RB Ball Bearings Aluminum Spool S-Concept: S-Rotor, S-Guard, S-Arm Cam New Machined Aluminum Handle Direct Drive Mechanism (Thread-In attachment) WP Drag (Waterproof Drag) Maintenance Port Fluidrive II Floating Shaft Dyna-Balance Super Stopper II Maintenance Port Fluidrive II Floating Shaft Dyna-Balance Super Stopper II Repairable Clicker Approved for use in Saltwater Rated for use with Mono, Fluorocarbon and PowerPro lines.




The new Baitrunner OC gives you the confidence of a legendary drivertrain and auto-return Baitrunner feature as well as better castability, better line lay, less backlash, wind knots, less friction on the line, larger, more comfortable grips, a higher max drag as well as a wider range of Baitrunner settings than its predecessors. Little over a $100 gives you a good bang for the buck. Great for surf, ocean bottom fishing, striper fishing off structure, etc...







Shimano Baitrunner BTR_FD Spinning Reels

The Baitrunner D combines today's technology with legendary performance and durability. Incorporating all the latest technology such as the Propulsion Line Management System to S A-RB bearings, the new compact profile lineup of Baitrunners can handle nearly any live-bait application from the new small 4000 size for freshwater and inshore species to the large 12000 size for Bluewater. Slightly higher quality than the OC. A few more bucks from the pocket book. A reel you will never go wrong with




Conventional/Casting Shimano Reels:

Cardiff Casting Reel & Corvalus Casting Reels (available in Right and Left hand) 
Last Updated on Wednesday, 26 November 2014 19:30