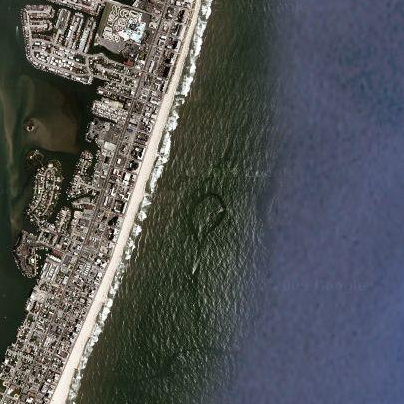 --A light easterly breeze brings fish to the surf
--If the surf is too rough to fish, cast fishing lures at the inlet, or take your surf fishing gear to the Ocean Pier.
-- Fish bite good right before a storm, weather change, or front! (falling barometer) --To catch more fish always keep your fishing bait moving slightly across the bottom so you can cover more territory and make your bait look more life-like.
--If you use squid for fishing bait, always cut it into an attractive tapered strip and hook it only once so it dangles off the hook.
--If you want to catch stripers, fish early in the morning, dusk, or after dark. Use bloodworms or artificial lures such as Atom's Plugs, Rattletraps, MirrOlures, Windcheaters or Swimming Shad Lures.
--Some of your best surf fishing is early in the morning and right before dark.
--A hurricane type sinker holds better per ounce than the traditional pyramid type. If it is extremely rough try a sputnik type surf sinker.
--The lighter the line, the further you can cast, and the less sinker weight it takes to hold! (Most people surf fish 12 to 20 pound test line. Never go over 20# in the surf. If you throw fishing lures, do not use over 16# test.) --Keep your fishing bait in a bucket or cooler, or the sea gulls will steal it!
--If you want to use a whole finger mullet, buy a "mullet hook" rig so you can thread the whole finger mullet on the hook.
--Fish one rod out far with a whole finger mullet for blues or stripers, then fish a shorter rod in close with strips of mullet or pieces of bloodworm for kingfish, spot, and trout.
--If you use bloodworms, keep your hook size down to a size #6 or #8. (Unless you are after keeper sized stripers.)
--If the crabs continuously steal your bait, go to a single, surf- floater rig. This puts your bait further off the bottom away from the crabs.
--If there is an outer bar where you are fishing, fish the inside slough at high tide. At low tide, walk out to the bar and cast off.
--Cast the deep side of jetties for good results.
--Look for a point of land jutting out on the beach, then fish either side of it.
--It is possible to "over-cast" the fish, especially at high tide and towards dusk.
--Always use a sand spike, so your reel does not fall in the sand when baiting up or taking a fish off the hook
--Never wash your reel in the ocean! Wash it with fresh water when you get home.
--If you get a big fish on, use your drag, and let the wave action help you bring the fish to the beach. Many fish are lost right in the wash as the excited angler cranks too hard when the wave is retreating.
--Do not fish in a lightning storm with a graphite fishing rod! (It ain't worth it!)
--Assateague Island (off Rt. 611) and 3 R's Road- (Part of the Delaware State Park- just south of Indian River Inlet Bridge) have quick drop-offs. If it is a rough day, it's easier to hold bottom in these two places.
Last Updated on Tuesday, 30 June 2009 15:03