Surf and Bay Travel rods are available in a three or four-piece travel model.These rods are ideal for the traveling angler! Great rods to carry to and from Ocean City, MD or anywhere else in the world!
Click Here to Browse and Preview all our Travels Rods Online!

Last Updated on Wednesday, 30 March 2011 10:07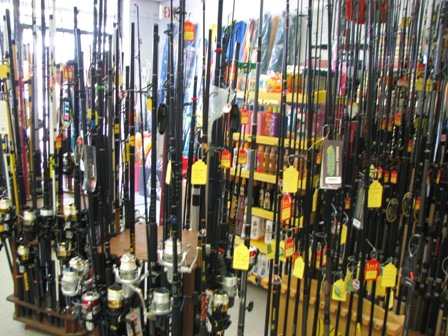 A fishing rod  is your main asset to catch fish. A 'fishing pole' is a simple pole or stick for suspending a line (normally fastened to the tip), with a hooked lure or bait. Fishing rods vary in action as well as length, and can be found in sizes between 36 inches and 15 feet.
We provide you a wide choice of quality name brand fishing Rods  at great prices!!
Click Here to Browse and Preview All our Fishing Rods Online.  



Daiwa Emcast surf, boat and jetty rods - Economical Beefstick surf & bay rods, and more!

Something for all saltwater and freshwater fishing challenges - Daiwa's emphasis has been upon innovation and quality. The result is a long list of product features, design and materials that have become standards for the fishing tackle industry.

Browse our Emcast Surf Rods Online 

 




Okuma High Performance fishing rods - something for all fishing needs, whether it be surf casting, boat fishing, trolling, and bait casting rods. Manufactured to high quality standards. Okuma does not look for inspiration from other manufacturers; instead says that it finds inspiration from other anglers.  From the weekend warrior to tournament pros, committed to your needs.

 




Penn is a long established manufacturer of high quality fishing tackle. It's selection of rods is unparalleled. Any salt water fishing need can be fullfilled with a Penn Fishing Rod.  Surf Fishing, Bait Casting, Trolling, Boat Fishing, Spinning reel Rods, and more!


 




Shakespeare Rods: Established for over 100 years, Shakespeare Rod and Reels are one of the industries oldest and established manufacturing companies of Fishing Tackle. Shakespeare manufactures a full line of rods for all fishing needs and even offers rods for the lady and children of the home. Browse them in our shopping cart.

  
We also carry St Croix, Lots of Tica surf rods both conventional and spinning,  Star, Silstar and Pinnacle Rods .. We have lots and lots more surf and bay rods in our shops that are not online... 

CLICK HERE TO PREVIEW OUR ONLINE SELECTION OF SALT WATER FISHING RODS.
Last Updated on Thursday, 09 June 2011 09:42