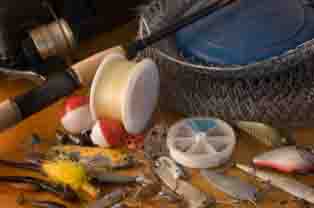 Our 2 bait and tackle retail stores are located in Ocean City, MD and Fenwick Island, Delaware | Also, our Oyster Bay Tackle Online Shopping Cart Store offers a large variety of Fishing Rods, Reels, Lures, Rigs, How to Fish Books, bait and simply good advice and tips!
Shop from the comfort of your home - We ship fishing tackle and gear, accessories, and clothing out daily and pride ourselves on prompt processing of orders.
Click Here to download the Mail/Fax Back Order

Fishing Product Categories
Last Updated on Wednesday, 30 March 2011 09:51
A fishing reel is a device used for the deployment and retrieval of a fishing line using a spool mounted on an axle. Fishing reels  are  used in conjunction with a fishing rod.
Click Here to Browse and Preview All our Fishing Reels Online.




Daiwa Fishing Reels:  From the very beginning, Daiwa's emphasis has been upon innovation and quality. The result is a long list of product features, design and materials that have become standards for the fishing tackle industry. Daiwa manufactures a wide variety of reels for specific fishing needs, including Surf Fishing, Bay and Jetty Fishing, Bait Casting, Spincasting. Saltwater conventional reelds, fly and mooching reels, etc..

 

Okuma's goal is to enhance that time and experience by providing dynamic tackle that will become a seamless part of the overall angling experience.  "Design driven by technique" is the key in developing rods and reels that push the angling experience.

Okuma manufactures high performance reels including lever drag, star drag, spinning reels, bait casting reels, fly fishing reels, and center pin reels.

 




Ever since Otto Henze founded the Penn Fishing Tackle Company in 1932 , Penn has been at the forefront of modern reel design and production. Millions of experienced anglers around the world put their faith in using Penn products every day. Penn manufactures a complete line of Reels including conventional reels, spinning reels, baitcasting reels, international reels.

 




Pinnacle baitcast reels are designed and built by fishermen for fishermen. According to their website, "unlike competitors who farm out design work to suppliers, engineering on most Pinnacle reels is done in-house. The Project Engineers and Product Managers who head up the development process are not only seasoned veterans in the tackle industry but are also anglers who understand what it takes to build a quality reel. " Pinnacle manufactures a full line of reels for the sportfishing enthusiasts for salt water fishing in the oceans and bays of the world.

 




Quantum manufactures through it's dealer network a full line of reels for the sportfishing Enthusiast.  These would include  baitcast reels, spinning reels, trolling reels, and typically come with a 1 year warranty.

 




Founded in the early 1920's by Shozaburo Shimano, Shimano started off as a company known for precision engineering. Today the company is regarded as one of the forerunners in product innovation and a leader in the industry.Shimano manufactures a full line of Ocean and Bay Salt Water Reels for baitcasting, trolling, offshore spinning, etc..
Last Updated on Friday, 01 April 2011 10:58